Winter is the time of year to throw on a cozy oversized sweater, grab a bowl of homemade mac and cheese, and enjoy the comforts of home. We all love the aroma of fresh-baked bread from the oven or mom's famous chicken soup cooking on the stove. Winter weather is the perfect excuse to embrace all that is gooey, cheesy and warm.
The best winter meals are not only those that warm our bodies but that also soothe our minds. Winter days can feel long and dreary, and sometimes the best remedy is a flaky slice of chicken pot pie or a steaming mug of hot chocolate. Join us in the kitchen for tasty winter meal ideas — you'll soon see that winter is a season to celebrate after all.
What Cold Weather Does to Our Bodies
Before we get cooking, let's take a look at how winter affects our bodies and why good, hot food is important to our health. When we face cold temperatures, our bodies adapt in the following ways:
Slow down: The body reduces some muscle contractions, the nervous system slows down, and it uses carbohydrates differently to retain heat.
Reduce blood flow:

In cold temperatures, the body's blood vessels constrict and blood flow decreases. Hands and feet get cold the fastest.
Shivers:

The body will shake in an attempt to bring body temperature back up.

Women may especially struggle to keep warm in the winter because they have higher body temperatures than men, which means it is more difficult to adjust to the cold. But that's okay. Even more reason to enjoy a second helping of homemade stew.
So before you dig a den into the earth and hibernate like a bear, know that a hearty meal can help reduce the effects of cold temperatures and give the body plenty of fuel to burn. Some foods, in particular, have special warming powers.
Foods That Help Keep Us Warm in Winter
Luckily, there are warm foods for winter that help keep your body toasty. You can easily incorporate many of these ingredients in any dish for a truly belly- and heart-warming effect.

A few foods you can build a winter meal around include:
Lean meats: Meats such as chicken, pork or lean beef are iron-rich foods that help combat cold feet and hands.
Whole grains and complex carbs: Foods such as potatoes and lentils are hard for the body to break down, increasing body temperature as a result.
Cumin:

Many hot spices will cause you to sweat, which actually cools you down. Cumin, on the other hand, increases body heat without overdoing it. You won't sweat, but you may experience greater warmth.
Ginger:

Ginger enhances thermogenesis. Thermogenesis is the process your body uses to

burn calories to produce heat.
Beverages to Warm You up in Winter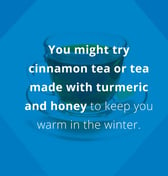 What about beverages? Fortunately, coffee lovers can feel good about their caffeine addiction in the winter, because caffeine helps keep the body warm. Other warming beverage ideas include:
Tea:

Jasmine, spearmint or goji berry. You might also try cinnamon tea or tea made with turmeric and honey. Add a pinch of black pepper to help your body absorb the turmeric.
Hot chocolate:

Consider adding whey protein powder for more nutrition.
Must-Use Spices and Aromatics for Winter
When it comes time to whip up a hearty soup or casserole, consider adding one or more of these ingredients to up the heat:
Anise

Basil

Chives

Cloves

Coriander

Dill

Fennel

Garlic

Honey

Onion

Parsley

Pepper

Rosemary

Scallions

Leeks
You can easily add a few chopped scallions to garnish a variety of dishes for flavor, color and extra warmth. Similarly, you often only need a dash of spices or herbs to create a more complex and intense flavor. Let winter be the time to explore new recipes and exotic seasonings.
Ready to get up and get cooking some yummy winter meals? What could be better than standing next to a warm stove and a simmering pot on a cold, snowy day? Here are six recipes you should try.
Warming Comfort Food Recipes
The following recipes use plenty of warming foods, such as hearty veggies and bold broths, and they are sure to brighten a dreary winter day. There's a reason why grandma's cooking tasted so good — she knew nothing beats a rich, hearty meal that not only fills you up but also makes you smile.
1. Chicken Pot Pie
What says comfort more than a crusty slice of pie packed with nourishing ingredients like chicken, potatoes and peas? Chicken pot pie has been around since the Roman Empire. However, in the old days, these pastry meat dishes sometimes featured living birds under the crust that would fly out once the pie was served. Talk about a high-drama dish! Luckily, that fad ended long ago.

Meat pies rose in popularity in England in the 16th century and within a short time made it across the Atlantic. Now, we can feel like royalty in the comfort of our own home with these delicious fork-licking-good pies. This Easy Chicken Pot Pie recipe from Spicy Southern Kitchen uses refrigerated pie crust and rotisserie chicken to save time. There's no need to knead with this pie. Here are the ingredients:
1 cup potato, peeled and diced

1/2 cup butter

2/3 cup onion, diced

1/2 cup flour

1 cup milk

3 cups chicken from a rotisserie chicken, shredded

1 cup peas

2 refrigerated pie crusts

3/4 cup carrot, sliced

1 egg beaten with 1 tablespoon of water

1-1/4 teaspoon salt

1-1/2 cups chicken broth
1/2 teaspoon pepper
1/4 teaspoon thyme
1/4 teaspoon poultry seasoning
Here's what you'll do for the filling. Preheat the oven to 425°F to prepare for baking. Boil carrots and potatoes in a pan for 5-8 minutes or until soft. Drain.
Melt the butter in a frying pan. Saute onions for 2-3 minutes. Add thyme, pepper, salt and poultry seasoning to the pan. Sprinkle the flour on top, stirring frequently for 1 minute. Whisk in the chicken broth gradually, followed by the milk.
Add potatoes and carrots, and allow them to simmer for a few minutes. Check seasoning and add more salt or pepper if needed. Stir peas and chicken into the mix. Turn off heat.
Now, time for the crust. Place a pie crust in a pie plate. Pour the filling on top.
Place the second crust on the filling and remove the excess.
Seal the pie edges together.
Brush the egg and water mixture on top of the pie.
Cut 4 slits in the pie surface for steam to escape. Place the pie on a baking sheet. Bake for half an hour. For more flavor and warmth, consider adding a pinch of cumin or parsley to the filling.
2. Macaroni and Cheese With Ham and Leeks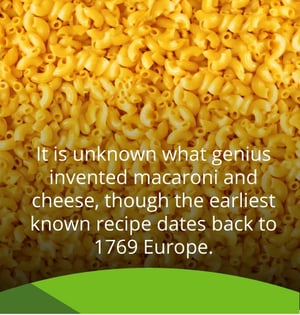 What is it about macaroni and cheese that makes it so darn yummy and comforting? Is it the golden, gooey cheese, or the forkfuls of starchy satisfaction? Either way, this dish has been a favorite of children and adults for a very long time.
It is unknown what genius invented macaroni and cheese, though the earliest known recipe dates back to 1769 Europe. Fortunately, Thomas Jefferson brought noodle recipes and a pasta machine to America from a visit in France and served macaroni and cheese at an official dinner in 1802.
The dish gained sweeping popularity when Kraft boxed macaroni and cheese hit the market in 1937. At that time, during the Great Depression, the product could serve a family of four for only 19 cents a box. It's easy to see how this food quickly became associated with the ultimate comfort food. Mac and cheese can be made as economically or as luxurious as one desires.
We're going to share a recipe that falls somewhere in between economic and decadent, with Rachael Ray's Mac and Cheese with Leeks and Ham. This recipe is simple, tasty and sure to help you forget the winter blues. You'll need:
1 large garlic clove, crushed

2 1/2 cups milk

1 cup chicken stock

1 tablespoon extra-virgin olive oil

2 large leeks

2 tablespoons fresh thyme

1/2 pound cooked ham

salt and pepper

5 tablespoons butter

4 tablespoons flour

A small amount of ground nutmeg to taste

1 pound of macaroni or penne pasta

2 cups Gruyere cheese

1-1/2 cups freshly grated Parmigiano-Reggiano, divided in half

Tabasco sauce
Here's what you'll do. Rub a small saucepan with the crushed garlic. Leave the garlic in the pan. Add the milk and stock. Heat over medium heat until warm.
Remove the saucepan from the heat and cover. Bring a large pot of water to a boil for the pasta. In a large saucepan or skillet, heat the oil over medium heat. Cut leeks into 1-inch pieces. Add leeks and thyme. Cook and stir for about 3-5 minutes or until the leeks are wilted.
Stir in ham. Season with salt and pepper to taste. Transfer to a plate. Add butter to the skillet and melt. Add flour and whisk for 1 minute. Whisk in the milk mixture. Add salt, pepper and nutmeg to taste. Simmer until thickened for 3-5 minutes, stirring occasionally.
Preheat the broiler. Salt the boiling water. Cook pasta, stirring frequently until al dente. Stir the Gruyere and half the Parmigiano-Reggiano into the sauce. Add a few dashes of Tabasco sauce. Drain pasta.
Add pasta to the sauce and then add ham and leek mixture. Transfer to a 3-quart casserole dish. Top with remaining Parmigiano-Reggiano cheese. Broil until bubbly and brown for about 2-3 minutes.
This heavenly, cheesy dish can feed six. However, we understand if you want to keep it all for yourself. Why not — it's winter, right?
3. Macaroni and Cheese With Easy Add-Ins
If you don't feel like getting your celebrity chef groove on, we understand. It's cold, you're sleepy — who wants to slave in front of a stove for hours anyway? If you plan to spend the evening curled up on the couch, you can easily dress up a simple box of mac and cheese as an alternative. Or, boil pasta, add a jar of cheese sauce and some shredded cheese, and you'll be set.

We swear we won't share your secret. A few tasty and quick mac and cheese add-ons and mix-ins include:
Crumbled bacon

Breadcrumbs

Any shredded cheese

Ketchup

Chopped hot dogs

Steamed broccoli

Shredded chicken

Black beans

Peas

Mushrooms

Canned tuna

Ground beef

Chopped onion

Chopped cooked veggies

Ranch dressing
To sum it up, pretty much anything tastes good when it's loaded with cheese, as Thomas Jefferson knew best.
4. Slow Cooker Goulash
Imagine being a 17th-century herdsman, cooking your meals in a large cauldron over an open fire. You use lard, bacon, onions and sometimes a cow for the stew's main ingredients. This may be your main meal for months or a year at a time. This is the birth of Hungarian goulash.

It wasn't long before Hungarian goulash became popular with travelers because of its warming qualities, and by the 1830s it made its way into cookbooks and restaurants. If this dish could keep herdsmen warm throughout the year, we figured it was worth mentioning as one the best winter comfort foods. This hearty classic uses beef, vegetables and spices to keep you satisfied, toasty and ready for hibernation. Or a nap.
The recipe we are going to share is a little less labor-intensive than old recipes and requires a slow cooker instead of a cauldron. That way you can set it, forget it and come home to a kitchen that is filled with mouth-watering aromas. Here's what you'll need to make this Betty Crocker Slow Cooker Hungarian Goulash:
2 tablespoons vegetable oil

2 pounds beef stew meat

3 tablespoons flour
1 green bell pepper, sliced

1 3/4 cups beef broth

1 six-ounce can tomato paste

2 chopped garlic cloves

1 onion, sliced

1 tablespoon Worcestershire sauce

1 tablespoon paprika

1 teaspoon salt

1/4 teaspoon caraway seed

1/4 teaspoon pepper

1/4 cup water
Heat oil on medium-high heat in a skillet. Cook beef until brown, around 10 minutes. Drain. Spray a slow cooker with cooking spray.
Put beef and onion in the slow cooker. Combine tomato paste, garlic, broth, paprika, salt, Worcestershire sauce, caraway seed and pepper in a bowl. Stir into the beef mixture. Set slow cooker to low heat and cover.
Cook for 8-10 hours on low or 4 hours on high until beef is tender. Stir water and flour in a bowl and gradually mix into the slow cooker. Stir in bell pepper.
Cover and increase heat to high. Cook for an additional 30 minutes. Serve the finished goulash on a bed of egg noodles, in a bread bowl or with a slice of thick, crusty bread.
5. Squash Soup With Ginger
Ginger has been used for thousands of years for flavoring and medicinal purposes. Did you know ginger does not grow in the wild? In fact, no one is exactly sure where ginger originated. However, this mysterious root has been produced in India and China as a tonic for over 5,000 years. It was exported to the Roman Empire over 2,000 years ago for its medicinal properties.

Ginger continues to be used to treat everything from the common cold to cancer. Many claim it has anti-inflammatory and anti-nausea effects too.
Most importantly, in the middle of winter, ginger is good for cardiovascular health. You can boost your circulation and warm up with a healthy dose of ginger. We're going to suggest this Pureed Winter Squash Soup With Ginger recipe from the New York Times because it's delicious, creamy and helps you put some in-season nourishment into your diet. To get started you'll need the following ingredients:
1 tablespoon canola oil
1 chopped onion
2 minced garlic cloves
2 pounds peeled butternut squash
1 tablespoon ginger, minced
6-1/2 cups chicken or vegetable stock
1 diced carrot
1/2 cup rice
Salt and pepper to taste
1/2 teaspoon ginger juice
Pinch of nutmeg
1 lime, cut in half
Up to 6 tablespoons plain yogurt
To make the ginger juice, grate 1 teaspoon of fresh ginger. Wrap the ginger in a cheesecloth. Squeeze the cheesecloth and catch the juice in a small bowl.
To make the soup, heat the oil on medium in a big soup pot. Add the onion and carrot. Cook and stir until the carrot and onion are tender.
Add the garlic, squash and minced ginger. Cook and stir for about 1 minute. Add the stock, rice and salt. Bring to a boil. Reduce heat, cover and simmer for 45 minutes to an hour, or until the squash is tender.
Puree the soup using a hand blender or in batches in a regular blender. Return soup to the pot to reheat. Stir in ginger juice and season to taste with salt and pepper. Thin out with water or more stock if needed.
Spoon into a bowl and add a dollop of yogurt. Slowly swirl yogurt with a spoon. Squeeze a few drops of lime juice on top of each serving with a sprinkle of nutmeg. Did we mention this soup is also a festive shade of orange?
6. Hot Chocolate
What meal would be complete without a little something sweet? Instead of dessert, we are going to share a delectable hot chocolate recipe. Enjoy the feeling of a warm mug in your hands and take a sip of this chocolate lover's dream.

About 3,000 to 4,000 years ago in Mesoamerica, a form of hot chocolate known as "xocolatl" was created by the Olmec civilization, using cacao plant paste and water. This chocolate drink was adored for its power to enhance mood, boost energy and provide enduring nourishment. If you love chocolate, you probably agree with the Olmecs.
Eventually, the mystical beverage spread to Spain and throughout Europe. Now, in America, we often create this drink from packets of powder. Which is fine. But allow us to offer a recipe a bit more indulgent. After all, you deserve it. What better way to lift your mood on a cold day than with a frothy mug of Double-Chocolate Hot Chocolate from Food and Wine?
You'll need:
5 ounces bittersweet chocolate, chopped
2 ounces milk chocolate, chopped
3/4 cup whole milk
1/4 cup heavy cream
1/2 cup boiling water
Marshmallows
Combine bittersweet chocolate and milk chocolate in a bowl. Add boiling water. Let stand for 1 minute. Whisk chocolate until smooth.
Bring milk and heavy cream to a simmer in a saucepan. Add the chocolate mixture. Whisk over medium heat until hot. Remove from the heat. Pour the drink into two mugs. Garnish with marshmallows and serve.
Stay in, pick a movie and curl up on the couch with a loved one. This recipe fills two mugs — perfect for a date night.
Keep Cooking With Smart Touch Energy
You can stay warm in the winter, and it can be delicious. We hope you're hungry to try some of these comfort food recipes for winter for meals that'll stick to your ribs, warm your belly and fill your heart with joy.
At Smart Touch Energy, we want to help you stay warm and enjoy the benefits of a comfortable home. We make home heating oil an easy and economical process from start to finish. All you need to do is check your zip code for availability, choose a delivery option and place your order for quick and reliable home heating oil delivery.
We understand the importance of a well-heated home in the winter, and that's why we are available to assist you 24 hours a day, 7 days a week. For fast, convenient oil delivery and an efficient online service that helps you save, contact Smart Touch Energy today.