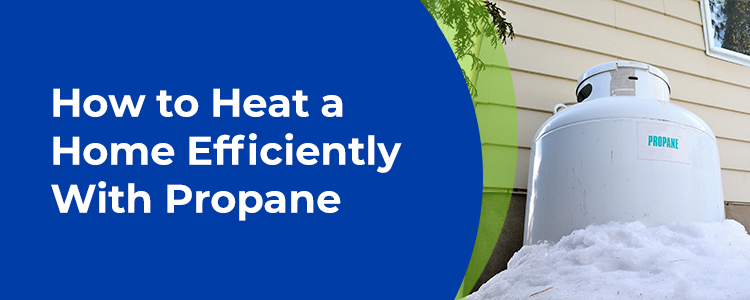 Propane is an energy-efficient fuel that serves as an alternative to regular gas in homes throughout the United States. While some homes come with propane tanks, it's also possible to retrofit regular tanks to accommodate propane fuel. If propane is your fuel of choice, you can lower your household heating costs by stocking up on propane in the summer months, when demand is low and the fuel is typically available at discount prices.
What Makes Propane a Good Heating Choice?
Propane gas generates a warmer, more intense heat than most other types of fuel. As such, you can warm your house more quickly with a propane furnace. Even during the winter months, you can often turn on the heat for short periods to warm your house and then turn it off for the rest of the hour, saving energy in the process.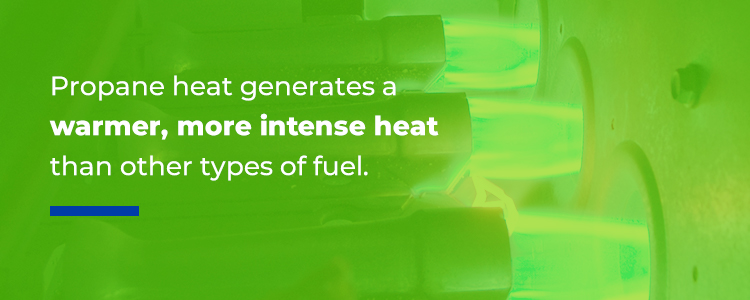 Install Sensors
In homes equipped with propane tanks, the furnace functions as a centralized heating system that distributes warmth throughout the house through vents. Typical propane heating systems will last anywhere between 15 and 20 years before you will need to replace the unit. To save money on heating costs, you can install sensors that shut the furnace off once they detect the desired temperature.
Swap Pilot Lights for Igniters
To make your propane system even more efficient and economical, switch out any pilot lights on the unit with electronic igniters. That way, the system will consume less energy all winter long. Program the thermostat to adjust the system to lower temperatures during hours when you are asleep or away from home.
Schedule Periodic Maintenance
Using propane heat for your house does require some added responsibility for you as a homeowner. Unlike electricity and natural gas, which feed into homes from local network suppliers, propane-fueled houses don't link to central delivery systems. Therefore, if you switch to propane, you will have to call and schedule propane deliveries with a local fuel supplier.
Consider Renting vs. Owning
The annual sum of your propane expenses could depend on the size of your tank and whether or not you own or lease the unit from a fuel supplier. If you rent the tank, the vendor you work with will handle any repairs and maintenance costs. If you own the tank, you will be responsible for those costs.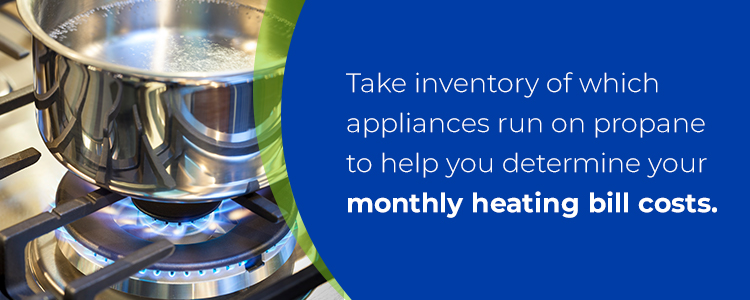 Tank Inventory of Propane Usage
Aside from your household heating system, various appliances might also run off the fuel supply of your propane tank. Examples of possible propane appliances include stoves, ovens, washing machines, clothing dryers, dishwashers, generators and even fireplaces. Take inventory of which appliances run on propane, as this can help you determine the cost of your monthly heating bills.
Ask Prior Owner for Records
As with other home appliances, a propane tank requires maintenance to run efficiently. If you are in the process of buying a home that contains a propane tank, ask the prior owner for any information pertinent to the tank's age and maintenance history. When did they purchase the tank? Have there been any performance issues? When did they have it serviced last? If you cannot get answers to these questions, have a professional evaluate the tank to avoid getting stuck with unresolved problems caused by a prior owner's negligence. Also inquire about the age of the tank, as an older tank might be due for replacement soon.
Verify Service Companies
While cost and savings are always essential, you should also be concerned about the service quality and safety standards of a propane supplier. You can check online to get a concrete idea of the delivery company's compliance with local law. Look for reviews by fellow residents in your community for more information.
How to Heat a Mobile Home Efficiently with Propane
In 1974, Congress passed a law called the National Manufactured Housing Construction and Safety Standards Act that changed the energy standard for mobile homes in the U.S. Since that time, mobile home manufacturers have constructed homes with better insulation. They have achieved this goal by using stronger walls and tighter windows and doors. However, if your mobile home dates back to before these changes went into effect, you might be paying higher energy bills due to poor insulation in your living quarters.
While there are several different ways to heat a mobile home, one of the most efficient options is propane fuel. As with regular residential properties, a propane furnace disperses heat through a mobile home via ducts. Depending on the design and layout of your mobile home, the ductwork should have an arrangement that allows it to distribute heat proportionately across each area. If your mobile home lacks ductwork, you should have it installed because it will enable you to switch to a propane heating system.
Choose a Small Tank
While the cost of a propane furnace can be a significant investment for owners of large homes, the price is relatively modest when it comes to mobile homes. This lower cost is due to the small amount of space the furnace would need to heat in such a property.
A mobile home will usually require a propane furnace at the smaller end of the spectrum. Such units can generally fit inside a closet. If you choose to go this route, you should first reserve a closet space exclusively for the incoming furnace. In terms of cost, the furnace could be a three-figure investment that could last as long as two decades.
Prepare the Furnace for High Performance
If the prior occupant of your mobile home used a propane furnace, you might be able to skip a lot of the installation work and expenses. Chances are, your mobile home will already have all the ductwork and necessary cords and hoses. Moreover, there will probably be a pre-determined spot for your new furnace.
In some cases, the pre-installed intake hoses in a mobile home will be old and worn, and you'll need to replace them with new ones. If one of the previous occupants left behind an old furnace that no longer functions, you will need to have that removed to clear space for the incoming propane furnace.
If you remove the furnace yourself, check to see whether it is still attached to your electrical supply. You must deactivate and disconnect the furnace before you move it off your property. If the electrical connections are damaged, you will need to have those replaced before you install the new furnace.
Test the Furnace
After you complete the furnace installation, test the unit out to make sure everything works properly. Run the furnace for an hour and let the heat work its way through your home. After 60 minutes, you should notice the difference. Granted, you will also need to make some external adjustments to get the most from your propane heat.
Winterize Your Mobile Home
To keep your mobile home warm in the wintertime, you will need to eliminate any drafts that may exist around your windows and doorway. If you are unsure whether drafts are present, flick a lighter or hold a candle before the edges of the window and door. Move the candle up and down, left and right along the vertical and horizontal lengths of the door and windows. If the flame blows inward at any point, you have isolated the location of a wind draft. That would be one of the spots you should reinforce with weatherstripping.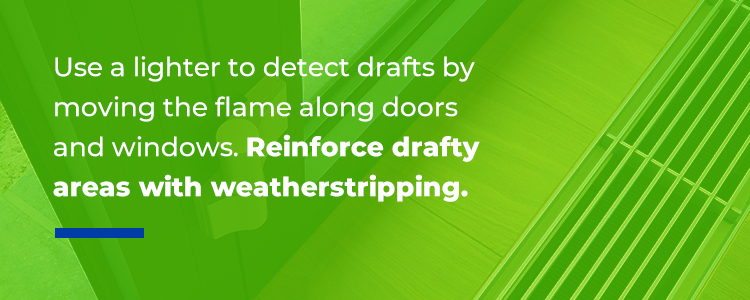 Add Weatherstripping to Doors and Windows
To maximize the insulation in your mobile home, you could reinforce your doors and windows in several different ways. For starters, add weatherstripping to your doors to block the flow of air into your living quarters. Caulk the edges of your window panes and add screens to further block airflow.
Clean Gutters
External factors such as puddles or ice on the rooftop can also cause a loss of heat within your mobile home. Before the inclement weather of winter takes hold in your area, inspect your gutters to ensure they allow the free flow of water from your roof. Check the roof itself to make sure no spots exist where water might stand.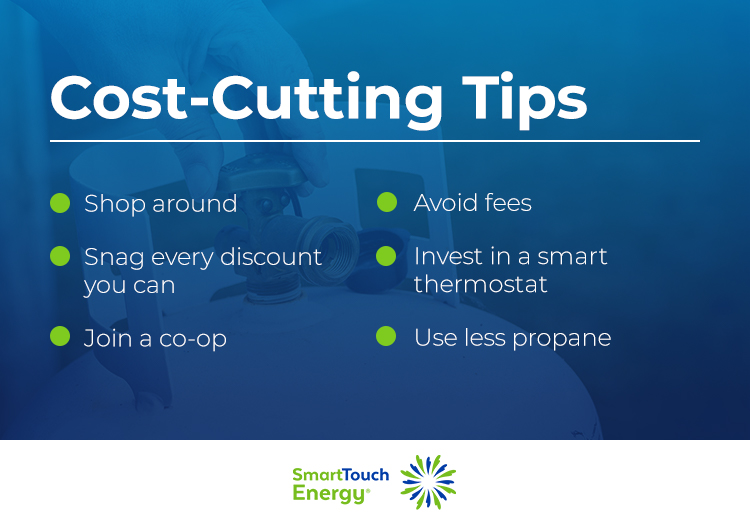 Cost-Cutting Tips
Propane heating systems can save you money over conventional heating options. However, propane can lead to other costs if you are not careful. The following tips cover ways to save on propane heat, whether you are purchasing a new tank or maximizing the pre-existing one in your home.
Shop Around
Propane prices typically vary between different suppliers, most of whom are nonetheless competitive and eager to get your business. The best way to find the lowest rates in your area is to do an online comparison of nearby suppliers. If you find a low quote, yet the supplier is far across town, you might be able to talk your neighborhood supplier down or get some perks in the process when you mention the competing quote.
Snag Every Discount You Can
Propane suppliers often sell fuel at discounted rates to senior citizens. If you think you might qualify, ask the suppliers that serve your community. Even if you do not qualify for the discount this year, you might meet the criteria next year. Check back on this periodically, as such policies sometimes change.
Join a Co-Op
One way property owners can save hundreds per year on propane fuel is to join a local fuel co-op. To see if a co-op exists in your area, search for "propane co-op" and your city and state, and see what comes up in the results. Co-ops save members money by negotiating with local fuel suppliers. A membership could cost $25 or $30, but you could make that money back more than four times over through the savings you could reap as part of the co-op.
Avoid Fees
Some propane suppliers have a reputation for sneaking additional fees onto service charges, especially when you need to make an emergency call at odd hours. The next time you arrange to have a fuel delivery, request a breakdown of the different charges that comprise your subtotal. Delivery companies will usually charge extra if you order fuel on weekends, holidays or during off-hours. Therefore, you can save money by fueling up in advance of holidays and three-day weekends during wintertime.
Invest in a Smart Thermostat
The most effective way to keep temperatures adjusted to desired levels, day or night, is to equip your heating system with a smart thermostat. These money-saving devices allow you to program the system to automatically activate during the hours when you're home. Likewise, you can program the heater to automatically turn down or off when everyone is at work or school. You could also link the thermostat to a smartphone app to give your heating system commands from remote locations. As you head home from work, you could activate the heater 20 minutes before you arrive to get the house warm by the time you walk through the door.
Use Less Propane
The easiest way to get the most from your propane is to use it as sparingly as possible. During the months when your heater is regularly active, change out the filter every four weeks to ensure the airflow will be clear and free-flowing. Otherwise, dust and lint could accumulate in the filter and cause strain on the system. If your kitchen has older propane appliances, consider replacing them with more efficient alternatives. If possible, check the insulation in your walls. If the insulation is several decades old, it could be time for fresh, thick insulation in your wall cavities.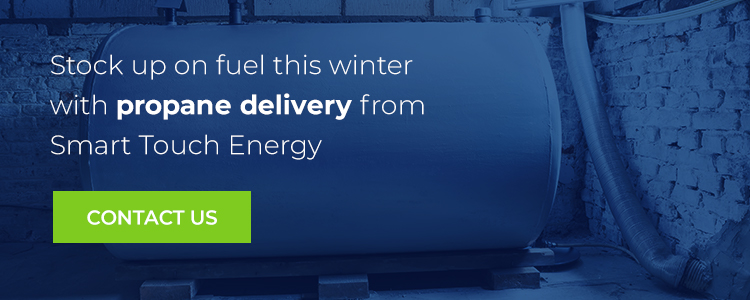 Propane Fuel Delivery From Smart Touch Energy
In the Northeast U.S., the winter months are often bitterly cold. As the holidays approach, millions of homeowners will be stocking up on fuel to heat their homes and stay warm as the snow piles up outside. For round-the-clock deliveries of propane and service maintenance, contact Smart Touch Energy, the trusted name in fuel in New England and the tri-state area. Check out Smart Touch Energy's current rates and place your order online today.