When it comes time to bring your car in for an inspection, you probably do it without thinking twice. After all, it only makes sense. An inspection ensures your car is still performing at its best capacity, and a service technician can alert you when parts need to be fixed or replaced.

Your home heating system is no different. However, unlike your car, which you most likely use daily, your heating system can sit for months without use. You would not trust a car that has sat for months unattended, so the same should go for your heating system. During those months, many issues could arise. Without an inspection, it has the potential to severely affect the life of your system.

When Should You Have Your System Inspected?

Although there are several different situations that would require your system to be inspected, we will focus on three important ones:
Buying a Home
Seasonal Inspections
Annual Service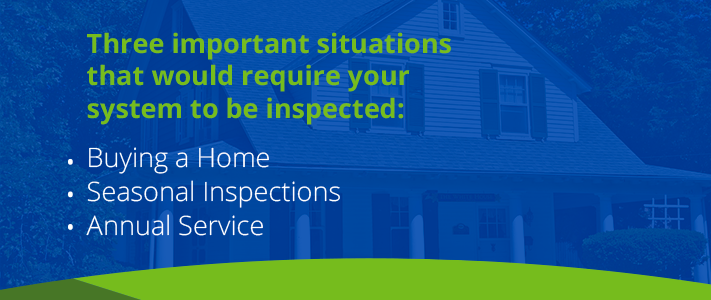 Buying a Home

Anyone who has bought a home, or is in the market for a home, knows that a home inspection is an absolute necessity. However, homeowners should not be too quick to assume that a home inspection eliminates the need for a separate heating system inspection. In fact, most home inspectors urge homeowners to order a separate HVAC inspection.

That is because home inspectors are not HVAC experts and can miss underlying issues. In fact, 50% of home warranty claims are for home heating and air conditioning systems. Scheduling a separate heating inspection can ensure you will not be hit with any surprise maintenance fees and save you from the headaches of filing multiple claims.

Seasonal Inspections

Once you have completed your separate heating inspection and have moved into your new home, you will want to establish a routine for your HVAC inspections. With seasonal inspections, you will be ensuring that your system's maintenance requirements — as outlined in your owner's manual — are being met. In addition, with your HVAC system making up roughly half of your home's energy bill, routinely scheduled maintenance can actually end up saving you 10% off your monthly expenses.




Annual Service

Beyond seasonal inspections, which will help keep your system in its best operating condition, an annual service inspection is always a good idea. The job of the overall inspection is to ensure nothing was missed or compromised during your seasonal inspection. An annual service inspection prolongs the life of your system, satisfies your warranty requirements and certifies your system is operating safely.

Your Heating System Checklist

Listed below are just a few examples of some of the items that your HVAC technician should check during your system's inspection. We are also including the reasoning behind the inspection, so when the time comes, you know the importance that each item on this list carries towards the overall health of your system.

Heat Exchanger

Heat exchangers are devices that enable heat from one fluid to pass to another fluid without the fluids ever having to come in contact with one another.


Why check this?

Without a properly functioning heat exchanger, your heating system will not be able to run efficiently, meaning a loss in heat production from your system and throughout your home. Plus, anything that affects your system's efficiency also means it is affecting your bottom line.

Internal Area

When your heating system is not performing as expected, an inspection of its internal areas could point to the culprit. Soot can build up inside your system; especially in places it shouldn't leading to issues and affect efficiency.

Why check this?

Inspecting the internal area of your system — and ultimately cleaning it — can help remove the buildup of soot. When left unattended, the buildup can affect your system's heat efficiency. Discovering soot during an internal area inspection can lead to answering questions about your system's firing ability. Your HVAC technician, upon finding soot, should conduct a nozzle inspection. If the technician finds that your system's nozzles are dirty, they need to be replaced.

Air Filters

The air filter — specifically its presence and condition — is another key to your system's efficiency. This is especially important for oil heating systems, as filters can easily become clogged.

Why check this?

Although they may not seem important, clogged air filters can have a negative effect on your system's efficiency. Without filters, your system runs the risk of suffering from long-term efficiency issues or worse, a complete system failure. During your inspection, the HVAC technician can check to see if your filters need to be cleaned or simply replaced altogether.

Furnace & Thermostat

Test-starting your furnace can confirm your system is running at its most optimal level. Before test-starting the furnace, your HVAC technician will verify the thermostat is recording the correct room temperature.

Why check this?

Test-starting your furnace will ensure that when the temperature is adjusted on your thermostat, the furnace is firing correctly. In addition, your HVAC technician will collect four flue gas samples to test your system's efficiency level. These samples will check important factors such as smoke content, oxygen count, temperature consistency and the state of your flue gases. All of this equates to a healthy, efficient system.

While these are just a few examples of some of the important items to have inspected, the list is not limited to these items exclusively. In addition to the items mentioned above, make sure your heating system inspection also includes:

• Cleaning your system's burners
• Inspecting all safety switches
• Cleaning and inspecting of system's blower motors, which may also include lubrication
• Checking fan belts for any signs of cracking or breakage

Once your inspection is complete, make sure to have a discussion with your HVAC technician to understand the state of your system, the issues that were uncovered, and the suggested maintenance plan moving forward.

Common Issues Uncovered During Inspections

While not every system is created equally, there are certainly some commonly heard of issues and problems that tend to reoccur over the course of your system's lifetime. Some of those more common issues that can be uncovered during your heating system inspection include:
Issue
Problem Cause
Clogged air filters
Soot and/or other contaminants
Dirty nozzles
Soot and/or other contaminants
Excessive wear and tear
Aged heating system components
Electrical ignition/pilot control
Faulty ignition and/or pilot
Thermocouple problems
Clogs in the device
Frequent cycling
Clogged filters
Thermostat settings
Inadequate airflow
Faulty thermostat
Electrical wiring
Noisy furnace
Mechanical issues
Clogged burner
Blower won't shut off
Limit switch
No heat from furnace
Thermostat setting
Power/Gas
Pilot Light
Not enough heat from furnace
Clogged filter
Wrong size for home setting
Besides these common issues, you should also be aware of the items that will typically need to be replaced during an inspection. Replacing these items during your inspection will not only ensure your system will continue to run at its most efficient, but it also will help prolong its life. Some of the more replaceable items for your system typically include:
Air filters
Nozzles
Thermocouple
Limit switch
Belts
Ductwork (may need to be redesigned)
Coils
Exchangers
Compressors
Drain Lines
Valves
Fan Motors
Fuses
Ventilation System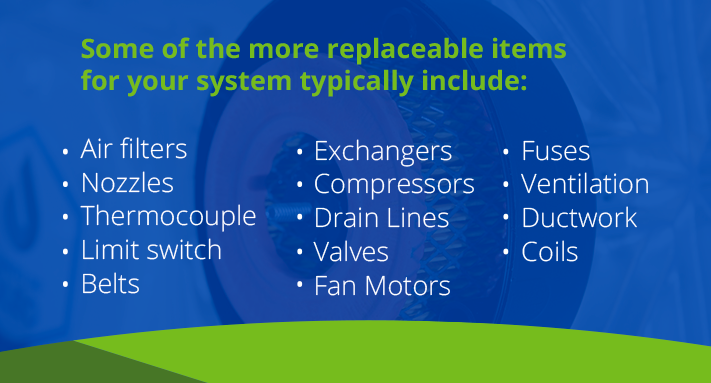 Carbon Monoxide Detectors
According to the U.S. Consumer Product Safety Commission, over 200 deaths occur in the United States each year due to poor ventilation of carbon monoxide gases produced by a heating system.
The safety of you and your family is paramount. An inspection can determine whether your system is functioning safely and filtering out any possible harmful toxins. While the heating industry has continuously increased its commitment to safety and safe practices, there is still the chance your home heating system exposes you to carbon monoxide.
One cause of this is the fact that newer homes are more airtight. Homeowners are more aware of how drafty homes can steal heat, leaving them paying for something they are not fully reaping. With more homeowners working towards sealing drafts and stopping air leakage in their house, the less likely fresh air will properly circulate throughout the home, especially during the winter months. Without the proper amount of oxygen required by your furnace to burn its fuel, carbon monoxide can begin to build up.
Another cause of carbon monoxide buildup occurs when a highly efficient system is vented into an existing chimney flue that do not uphold the same efficiency levels. Because of this, toxic gases have a greater chance of leaking into the home.
Other factors that may suggest a risk of carbon monoxide hazards include:
Missing HVACR equipment parts
Clogged heater draft hood
Flue gas spillage
To protect yourself and your loved ones from the threat of carbon monoxide and other dangerous gases, your HVAC technician should check the functionality of your carbon monoxide detector and any other power systems related to your detector. Just as important as checking your detectors, you will need an HVAC technician to check the efficiency and state of your chimney flue, ductwork and vents. In the next section, we will look at what specific components of your chimney should be inspected, as well as your ductwork.
Your Chimney Inspection Checklist
Ensure your heating system inspection also includes an inspection of your chimney. Be sure your HVAC technician checks for:
Chimney Cap and Crown Defects: These can include missing chimney cap, damaged crown and leaks in the chimney, which will lead to rust damage (metal flues) and frost/water damage (masonry flues).
Creosote (Heavy Soot): Heavy soot can lead to possible chimney fires, which can mean an increased exposure to toxins.
Buildup: The chimney should be clean and clear of any blockage that could cause airway restrictions. This is especially important for oil-fired equipment.
Damaged Flues: Damage to the flue can consist of cracks in the masonry chimney, water leaks and missing or open chimney cleanouts. These signs of damage could mean an increased risk of leaking dangerous toxins into the home.
Unsealed Flue-Vents: Including metal flues that are not sealed in the thimble or are missing their thimble. This can lead to an increased risk of gas leaks.
While it may seem as if the homeowner could inspect some of these themselves, it is never a good idea to forgo a professional inspection. An HVAC technician is a heating system expert and has the knowledge required to safely mitigate any potential risks or issues.
Your Ductwork Checklist
Issues with airflow within your ductwork could be the result of:
Air Filters: Air filters that are unintentionally sucked into your ductwork run the risk of not only restricting airflow, but also potentially causing a fire if left to drawn into the blower assembly fan.
Dirty Blower Fans: Blades that have accumulated dirt or dust negatively affect your blower fan's airflow, restricting its ability to move air into the HVAC system.
Leaks: This is a common issue resulting in loss of heating airflow.
Obstructed Return Air Inlets: If your return inlet is obstructed by either dirt, debris or furniture, you are running the risk of reducing your home's supply airflow.
Flex Duct Defects: Defects in the flex duct block result in collapsed sections and stopped airflow in the supply or return air system.
Be sure to discuss your technician's findings once the inspection is complete to better understand the next steps in correcting the issue.

Hopefully these checklists have instilled in you the importance of scheduling heating system inspections. Whether you have your system inspected when you are buying a home, seasonally or annually, ensuring your system is running efficiently and safely is the ultimate goal.
At Smart Touch Energy, we offer the oil furnace service, repair, cleaning and maintenance you need to ensure your burner is in peak condition. Through our network of dealers in New Jersey, New York, Massachusetts, Connecticut, Pennsylvania, Rhode Island, New Hampshire, Maine and Maryland, Smart Touch Energy delivers expert tune-up services for your burner, including:
Testing — We check your firing rate and combustion efficiency, all while providing a full summary of our testing for reference during your next oil service.
Cleaning — We clean your system's heat exchanger, burner fan, chamber, transformer, electrodes and motor, which are vital to the immediate performance and long-term lifespan of your oil furnace.
Checking — We test safety controls, pump, blower motor and other components to ensure they respond when you need them.
Oil and Lubricating — Any specific parts of your oil burner system that need lubrication and oiling are prepped for the season.
Bleeding — Necessary bleeding take place in the oil pump.
Get Peace of Mind and Security This Season
At Smart Touch Energy, we will keep you comfortable during the coldest months of the year. You need an oil burning system that responds and performs when you need it to, which is why we offer effective oil furnace maintenance, repair and service. To learn more about our oil service options and discuss the best options for your heating system inspection, contact the Smart Touch support team.