Heating oil, also known as No. 2 Fuel Oil, has been used to heat homes since the invention of the oil burner in the 1920s. Since then, it has remained a popular option for millions of Americans in regions with freezing, snowy winters.
Heating Oil Prices Near You
Check live pricing for the following states below:
Like gas for your car, heating oil is a commodity with prices that change throughout the year based on supply and demand. Its demand vastly increases during the cold winter months, meaning that heating oil prices often skyrocket at the end of the year.
If you're one of the 5.7 million households that use heating oil as your primary heating fuel, you know how frustrating it can be to purchase heating oil in the winter as the price increases. But did you know that you can save money on your heating bill by buying oil before winter begins?
Now Is The Time! Check Live Pricing And Schedule Delivery Online.
On a hot summer day, the need to buy heating oil might be the last thing on your mind. You may have never even considered buying your home's oil before you need it when it gets cold. But if you're tired of high heating costs taking a chunk out of your wallet every winter, buying your oil ahead of time might be just the thing you need to save you time and money throughout the year.
With so many buying options and prices that fluctuate from year to year, it might seem overwhelming to learn oil trends and potential payment methods. But understanding the science behind your home's heating oil prices doesn't have to be complicated. Learn about the historical patterns of heating oil prices, the current market trends and the available delivery options before you purchase your next heating oil supply.
The History of Heating Oil Pricing
Unfortunately, no one can predict the future. It's important to understand when looking at heating oil trends of the past that, like the stock market, prices can rise and drop at a moment's notice. Several factors contribute to heating oil costs that you have to account for.
Every year and even every quarter differs from the last. Factors such as wars, natural disasters, recessions and other economic and political influencers can quickly change the supply of and demand for oil.
But history is still a good indicator of things to come. Following historical trends can help you gain a better understanding of the future of oil prices based on similar economic and governmental conditions.
Heating oil is derived from crude oil, which is traded on commodity markets. A change in market conditions sends buyers and sellers into a frenzy, which causes crude oil prices to fluctuate. In turn, domestic heating oil prices fluctuate as well, since the price of crude oil represents 55% of the cost of heating fuel.

Throughout the years, the buying and selling of crude oil have made quite an impact in the pricing of heating fuel. Researching oil's past and future can keep you ahead of the game in determining when to buy your home's oil.
Price Spikes of 1980 and 2008
The first alarming high of crude oil prices occurred in the 1970s following an energy crisis, when wars in the Middle East triggered interruptions on oil exports. At its peak in 1980, crude oil cost an alarming $39.50 a barrel, which equals $103.76 today when accounting for inflation.
This unprecedented high dropped substantially with the 1980s oil glut. Oilfield development in Alaska, Siberia and other areas lowered oil reliance on the Middle East and created a new surplus of oil. The glut lowered crude oil prices to $12.51 a barrel in 1986. Heating oil prices, in turn, dropped to 74 cents in 1986.
Although a recession in 1990 brought the year's oil prices up by 84%, the remaining years of the 1990s enjoyed relative stability following the oil glut. Early 1999 even saw a decade record low of 50 cents.
The price of crude oil rose steadily throughout the early and mid-2000s due to increased demand. But it wasn't until 2008 that an oil price spike shook the world with record oil costs.
A lot happened in 2008, to say the least. In February, Venezuela cut off oil sales to ExxonMobil, the largest publicly traded oil and gas company in the world. Production at Iraqi oilfields remained at a standstill from wartime damage, and, in March, saboteurs blew up an Iraqi oil pipeline. And global strikes and militant attacks further halted oil production in several countries.

As a result, oil prices soared. July 2008 saw an all-time high of $144.29, breaking the record set in 1980 for highest oil costs. Heating oil also rose, peaking in June at $4.47 a barrel. The history of U.S. oil price spikes shows how essential it is to keep up with world news when deciding on the best time to buy.
Forecast for Future Oil Prices
As disposable income dropped during 2008's Great Recession, so did the demand for oil. Prices fell significantly, and heating oil averaged $1.51 in February 2009. Recessions tend to create this drop in oil prices, as most people can't afford to buy any significant amount.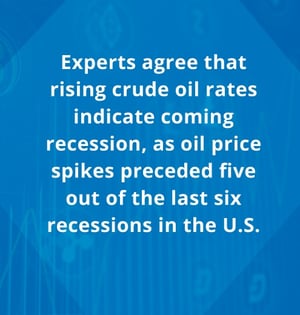 Due to a relatively steady global economy, 2014 through 2016 marked a consistent price drop. But 2017 and 2018 have seen a growing economic boom, and with it, rising oil prices.
Experts agree that rising crude oil rates indicate coming recession, as oil price spikes preceded five out of the last six recessions in the U.S. While not foreseeably as harmful as the 2008 crisis, this potential recession will likely drop oil prices.
As you work to understand historical trends, pay particular attention to the current economy and world news. Global conflicts concerning oil-producing nations or increased risk of recession will heighten oil rates, while times of recession and the economy's accompanying regrowth will create a drop in prices.
While heating oil is currently at a price hike of $2.10 per gallon — the highest average rate since 2015 — prices are set to drop with the potential coming recession, and keeping up with economic news allows you to stay on top of the rise and fall of both crude oil and heating oil prices.
Current Trends by Region and State
These historical trends explain U.S. average prices. But national data fails to account for the nuances in different regions of America. Each part of the U.S. has vastly different heating needs, and a state's demands for heating fuel dictates its average cost. Prices can drop in different regions at different times, making it hard to know precisely when the best time to buy heating oil actually is. Studying regional trends is just as essential in determining the best time to buy.
A vast majority of heating oil is bought in the Northeast. Heating oil provides heat to about 20% of households in the Northeast region, accounting for 84% of all residential heating oil sales in the U.S. Particularly, the top five heating oil consuming states are New York, Pennsylvania, Massachusetts, Connecticut and Maine. However, homeowners in other states in the New England, Central Atlantic, Lower Atlantic and Midwest regions also use heating oil to fuel their homes.
In these colder states, freezing temperatures dictate peak seasons — the most popular times of year for oil consumption when prices begin to rise. October through March marks the peak season of heating oil consumption for most states.
According to the U.S. Energy Information Administration (EIA), these were the residential prices per gallon for some of the top oil-consuming states at the beginning and end of the 2017-2018 peak season:
Connecticut:

$2.752 in October 2017 and $3.263 in March 2018.
Delaware:

$2.631 in October 2017 and $3.011 in March 2018.
Maine:

$2.301 in October 2017 and $2.759 in March 2018.
Maryland:

$2.698 in October 2017 and $3.085 in March 2018.
Massachusetts:

$2.663 in October 2017 and $3.158 in March 2018.
New Hampshire:

$2.443 in October 2017 and $2.967 in March 2018.
New Jersey:

$2.825 in October 2017 and $3.192 in March 2018.
New York:

$2.976 in October 2017 and $3.409 in March 2018.
Pennsylvania:

$2.427 in October 2017 and $2.729 in March 2018.
Rhode Island:

$2.761 in October 2017 and $3.224 in March 2018.
Now Is The Time! Check Live Pricing And Schedule Delivery Online.

In each of these states, the highest price spike for the season occurred between January and March, but prices typically continue to rise from late October to January or February. This price hike depends on the state's weather conditions and other environmental factors. After this peak period, prices typically begin to drop in mid to late March and stay low for the rest of the off-season. You can regularly view EIA data to keep up with an individual state's trends.
Filling Your Tank During the Off-Season
No matter what state you live in, the heating oil off-season typically occurs between April and September. And despite trends that change from year to year or state to state, one piece of expert advice remains the same — filling your tank during the off-season ensures that you spend less on your heating oil bill.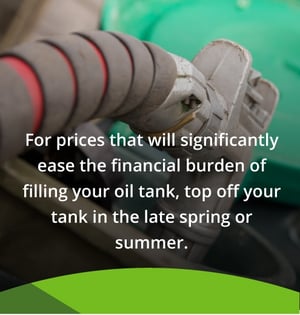 For prices that will significantly ease the financial burden of filling your oil tank, top off your tank in the late spring or summer. Prices will typically remain steady or decline during this time. Keeping your tank as full as possible throughout the year ensures that you won't have to worry as much about the peak season spike.
Not only will you save on discount pricing, but off-season filling could also help you avoid pesky repair costs.
Filling your tank for the summer actually keeps the tank healthier. When there's low fuel in your tank, it starts to pull moisture from the trapped air. The air forms condensation on the tank's walls — a perfect breeding ground for microorganisms that create sediment and corrode the tank over time. The corrosion gives way to rust, which could eat at your tank from the inside out. And the sediment clogs the fuel lines, which could shut your whole system down altogether. That's not good for your tank, and the repair bill that follows definitely won't be good for your wallet.
When the tank's full, there's less room for condensation to form. This improves your tank's overall lifespan and saves you from hundreds of dollars of repairs. Overall, buying off-season gives you the best return for your money.
Buying in Bulk
You may be thinking that you'd love to save money by buying your heating oil over the summer, but your tank's already full.
No problem. You can buy heating oil even with a full tank. Many people don't realize they have the option to buy in bulk, but bulk ordering may be just what you need to save time and money through the high-demand peak season. Oil typically lasts for 18 to 24 months when properly stored and treated, so you won't have to worry about your extra fuel going bad when not in use.

By buying your years' worth of oil in advance, you can take full advantage of unusually low or off-season prices. You'll also have a fuel reserve ready for the winter, so you hopefully won't have to worry about running out of oil when you need it most. And since homeowners typically have to refill their tanks two to three times a year, you'll most likely avoid having to top off your tank during the expensive peak season by pre-buying your heating oil in bulk before the season starts.
However, buying in bulk requires you to have the capacity to store excess oil safely. You might already have a bulk storage tank. But if you don't, you'll need to install one if you want to purchase extra oil before the season.
Even if you do have an underground storage tank, you should continuously check the tank for leaks and consider replacing older tanks to ensure that you're not leaking fuel, which would cost you money and harm the environment. If you suspect contamination, stop using your tank immediately and talk to a tank supplier about getting a replacement.
Heating oil bulk orders are a big investment. Plan your finances carefully to make sure you're ready for the commitment before you purchase. But if your budget allows you to buy excess heating oil and install or care for a storage tank, bulk ordering is one if your best options for saving money overall.
Delivery Options
When you buy your heating oil and whether you buy in bulk largely depends on your preferred delivery option. Two main options allow you the flexibility to choose when and how often you receive your heating oil. Each option should be weighed carefully based on your needs and budget.
1. One-Time Delivery
When you're shopping around for an oil company, the last thing you want is to be locked into a surprise contract with one provider. With one-time delivery, also called on-demand delivery, you buy your home's oil in an "as needed" purchase without a contract, similar to purchasing gas or groceries. The price per gallon will depend on the current going price of oil on the day of your purchase, which can fluctuate based on the day and demand.

This is an ideal option if the market price is set to stay particularly low since you're not locked into a contract and can look into different pricing options. It's also ideal for those looking to switch suppliers, as it gives you the freedom to shop around without the limitations of a contract.
One-time deliveries allow you to purchase your oil in bulk and can help you save money by avoiding costly winter payments. But on-demand delivery also has its drawbacks.
For instance, forgetting to order your oil on time could result in waking up to a freezing house. With one-time delivery, you have to monitor your own oil usage, and one mistake could have costly consequences. An oil tank should always be at least one-quarter full, and an empty tank can result in clogged filters and fuel lines. Hiring a professional to clear your fuel lines would cost you time and money that could be put elsewhere.
Also, since a variable rate can be so hard to predict, particularly in cold northern states, on-demand delivery services often end up hurting your budget. When your tank is low, you can't wait for rates to drop. A wrong prediction or emergency oil fill-up in the middle of winter could cost you far more than the cost that comes with a contract. On-demand service should mainly be used if you keep up with pricing trends and know exactly when and how much you should buy.
2. Automatic Delivery
Automatic delivery services take the guesswork out of your oil delivery.
With automatic delivery, you don't need to worry about regularly checking your oil tank or about waking up in the morning to a frigid house after running out of oil. Like a trustworthy old friend, you can count on your oil company to know just when you need them when you sign up for an automatic program.

These delivery services use non-intrusive advanced technology to calculate your estimated oil use based on simple information about your home and family. The system measures how much energy is required to heat your home based on the outdoor temperature — called "degree days" — and your house's square footage. There's nothing to install or check up on, so you can practically forget about your oil tank in between deliveries.
When the system calculates that you're running low on heating oil, you'll be directly contacted to set up a delivery. With this reminder system, you don't have to worry about checking your tank or running out of oil.
Automatic delivery is the most popular delivery method for most heating oil companies and is excellent for those who are looking for a long-term provider and a hassle-free delivery system. Most companies offer automatic delivery customer discounts, making this the most budget-friendly option.
Choose Smart Touch Energy as Your Heating Oil Provider
Whether you're looking to buy oil now or want more information before you purchase, it's important to talk to an oil provider you can trust. You need a company with honest prices and reliable service you can count on because you can't afford to go wrong with your home's heat.
At Smart Touch Energy, we believe you deserve the best heating oil service at a price you can afford. There's no hidden contracts or fees because we don't need a restrictive contract to make our customers come back.

We offer home heating oil services throughout the Northeast, and we continue to rapidly build our service network. We invite you to view our service areas to find an exact price for your area's oil costs.
If you're interested in seeing the difference Smart Touch Energy can make for your heating costs but aren't ready to commit to one supplier, order an on-demand delivery to see just how much you'll save when you switch to us as your trusted heating oil provider. And if you're ready to make the switch, sign up now for our automatic delivery program. Signing up for this 12-month commitment will automatically give you a $0.03 per gallon discount because we want to reward your loyalty to us.
When you want to save money, we're here for you any time of year. Start your order now to start saving on your heating oil costs. You'll see for yourself why we're the best choice for your home's heating needs. Place an order today or contact us if you have any questions.
Now Is The Time! Check Live Pricing And Schedule Delivery Online.